Sutter Creek ... the jewel of the Mother Lode
Sutter Creek is located 40 miles east of Sacramento and Stockton. It is less than a two-hour from Lake Tahoe and the various ski resorts. It is about a 3-hour driving distance from either San Francisco or Yosemite National Park.
Centrally located in the Gold Country of the Sierra Nevada, Sutter Creek is often considered the jewel of the Mother Lode and offers much for the vacationing traveler. The beautifully preserved town has: a variety of antique stores; specialty shops; art galleries; fine restaurants; a theater; and two fascinating museums.
Just a few miles away are the historic mining towns of Amador City, Jackson, Fiddletown and Volcano. The nearby Shenandoah Valley wineries offer a fine selection of wines for tasting. Golf is available at two fine courses, and not too far away are lakes and rivers for fishing, boating and picnics. The airport is only a mile away.
For driving directions, click here.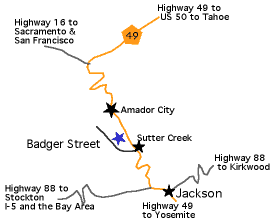 Local Sights and Activities
Amador County Home

Discover the serenity of Amador County… where sounds of footsteps on the boardwalks echo off the overhanging balconies.

Kirwood Mountain Resort

Amador Vintner's Assoc. Home

Welcome to the website of the Amador Vintners - - thirty four wineries from Amador County, heart of the historic Sierra foothill Gold Country.

Sutter Creek Welcome

Jewel of the Gold Country

Jackson Rancheria Casino and Hotel

Lake Commanche Recreation